Welcome to Clonmellon Community Radio Your station for local news and information as well as a mixed selection of music for all tastes. We are an internet-based radio station and are available through your PC, laptop, tablet, internet radio, and Smart Phone. You can listen by clicking the link above.
We are always on the lookout for new talent, whether it's a singer/songwriter looking for some local exposure or budding DJs looking for a local outlet to showcase their talent. Got some old stories to tell? we can record a podcast with you and add it to our archive.

If you fancy getting involved please get in touch. If you need training we can arrange this also.
Clonmellon is a great place to live with great people, why not get involved in your community and make change happen.

---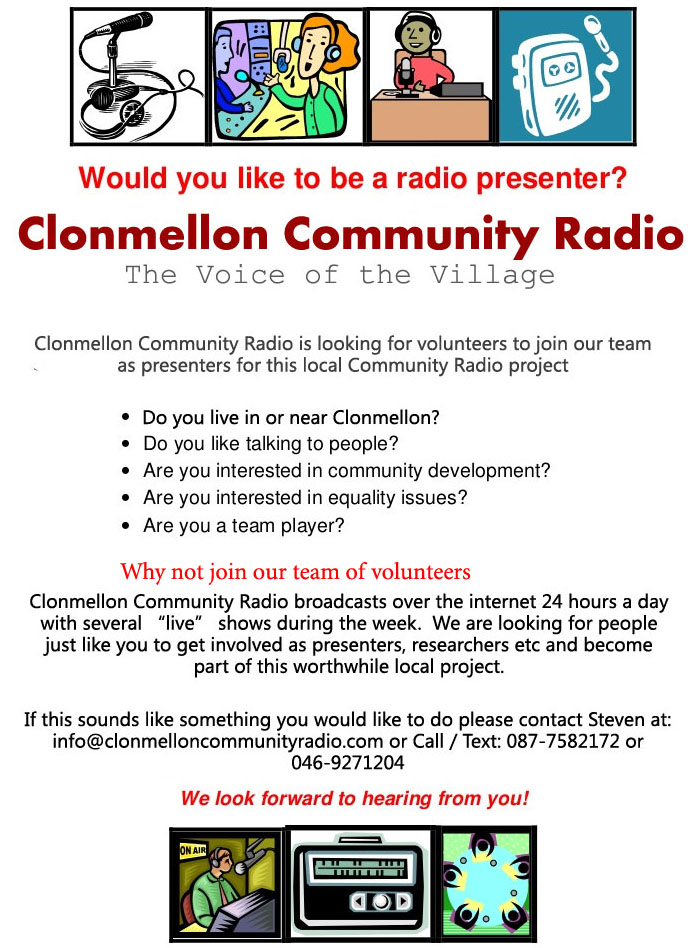 ---

Listen to a selection of local musicians from County Wexford with the Wexford Music show every Monday and Wednesday from 7 pm hosted by Tony Bergin. Tony also presents the Countrywide Music show every Saturday at 7 pm. If you are a singer/songwriter and would like Tony to play your music drop him an email to This email address is being protected from spambots. You need JavaScript enabled to view it. along with a short Bio of you and your song.

MUSIC NEWS: Following on from the success of "ONION", "Doesn't play well with others" is the latest studio album from Clonmellon's own Chris Carry.
Available now This album will, in equal parts, exhilarate you, delight you while occasionally making you feel all warm and gooey inside.
It will help you lose weight, restore your hairline, and get you the dream job you've always wanted! *
In short, this record is a modern-day miracle. Kind of.
*Disclaimer - listeners of this album may not experience any of these personal benefits. But, then again if you listen to it for long enough, you might...