Join Dave & Mike Weekday mornings for the Breakfast Show from 9am to 11am - Click HERE for more.
Welcome to Clonmellon Community Radio Your station for local news and information as well as a mixed selection of music for all tastes. We are an internet based radio station and are available through your PC, laptop, tablet, internet radio and Smart Phone. You can listen by clicking the link above.
We are always on the look out for new talent, whether it's a singer / songwriter looking for some local exposure or budding DJ's looking for a local outlet to showcast their talent. Got some old stories to tell? we can record a podcast with you and add it to our archive.

If you fancy getting involved please get in touch. If you need training we can arrange this also.
---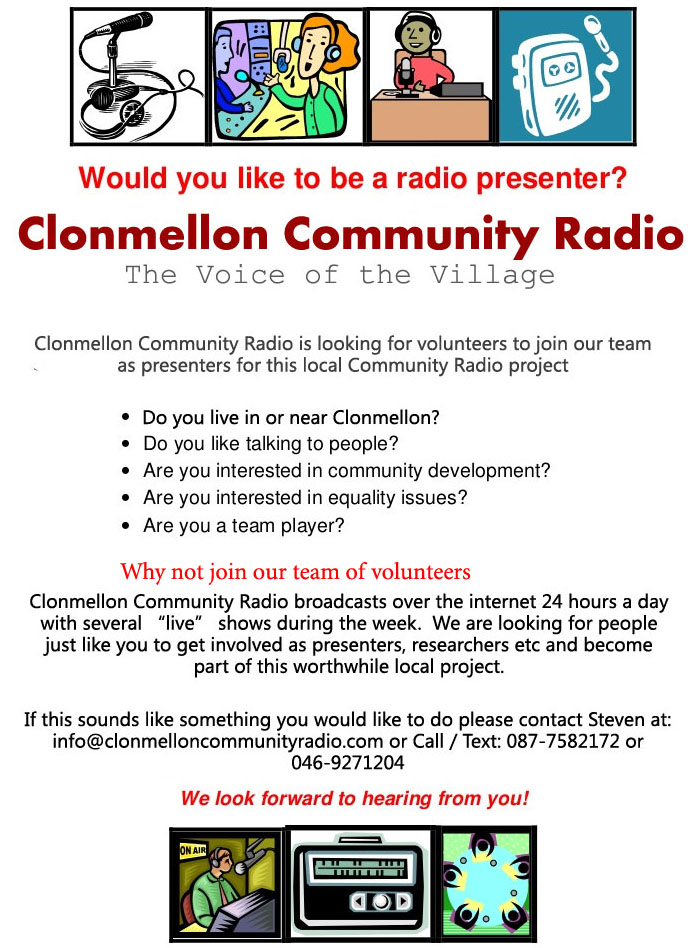 ---
Podcasts: Listen to a selection of podcasts recorded at our Potato festival on September 22nd 2019. There are interviews with local musicians, stallholders, Andy Smith (compere/MC) as well as some members of the public and also Joan Daly (of Clonmellon Community Council) and many more.

If you have a story to tell and would like to record a podcast to share with others please contact us and we can arrange a suitable time and location.
A vast array of events are always on offer at the Headfort Arms Hotel so please check regularly to make sure you enjoy your visit to the fullest!
If you're looking for a true Irish experience, the Headfort Arms Hotel, operating in the hands of the Duff Family for almost 40 years, offers genuine Irish hospitality and a vast array of events.
The Headfort, located only 35 minutes from Dublin City Centre, 40 minutes from the airport and 90 minutes from Belfast, serves as the perfect base to explore the heritage and intrigue of the rich Boyne Valley or relax after a day's golfing, fishing or walking at the numerous local activity sites.
Events at the Headfort click HERE
MUSIC NEWS: Following on from the success of "ONION", "Doesn't play well with others" is the latest studio album from Clonmellon's own Chris Carry.
Available now This album will, in equal parts , exhilarate you, delight you while occasionally making you feel all warm and gooey inside.
It will help you lose weight, restore your hairline and get you the dream job you've always wanted! *
In short, this record is a modern day miracle. Kind of.
*Disclaimer - listeners of this album may not experience any of these personal benefits. But, then again if you listen to it for long enough, you might...
.