Due to copyright restrictions "copyrighted music tracks" played during shows will be removed from the final edit. Podcasts are the property of Clonmellon Community radio. If you wish to use any part of these podcast please contact us.
To Listen to podcasts Click the Play Button, to download right click play button and then "save link as".
---
Chris Carry




We recently had the privilege of interviewing local singer / songwriter Chris Carry. Chris spoke about his music and the heartache behind some of his songs. Chris gave some good insight into the music business and some sage advice for upcoming artists. (Tracks played during podcast are used with the artists permission and not subject to copyright restrictions.)


Running time: 66 minutes
Visit Chris on the web at www.chriscarry.com

Marian Garry

Alan james recently snagged a quick interview with Marian garry from the local Cafe at the market square. Marian gave a little insight in to this great addition to the village and her plans for the future. (Apologies for poor sound quality at beginning)


Tidy Towns Clonmellon


Steven McKenna had a chat with John Wilson and John Anderson of the Clonmellon Tidy Towns and spoke about the positive impact it is having on our village. They spoke about the work that has been done and the plans for the future including the Community garden as well as up and coming fund raising events. (Apologies for poor sound quality during parts of this interview)

Holly and Steven
Holly and Steven had a quick chat on Saturday evening, November 23rd 2019 after Holly said "Daddy, can we do a radio show".. (don't know where she gets it from, lol. So we recorded a short 30 minute podcast where we chat about Christmas, Birthdays, Bicycles and Fairies... Oh the joy of innocence and oh to be young again
.
Running time: 30 minutes
---
Interview with Ragu Rajaram (Brain & Spine Physiotherapy Clinic) February 16th 2021

Ragu is a Chartered physiotherapist with nearly 13 years of experience in Paediatric Physiotherapy. He graduated from Dr. MGR medical University (India) in 2000 with a Bachelor's degree in Physiotherapy and always wanted to work for disability population. He completed Diploma in Developmental Therapy in 2002 and gained Senior level experience working in SPASTICS Society Of Tamil Nadu,a Community Based Rehabilitation centre for Children with disabilities treating high risk infants and children with neurodevelopmental and orthopaedic issues.
Ragu is also a certified NDT/Bobath Physiotherapist having successfully completed 8 weeks specialised practical based intensive course in the management of Cerebral Palsy and other neurological disorders with NDTA, USA. He had interest in neonates and infant rehabilitation and so completed Baby Massage Instructor course at Dublin in 2011. Ragu later completed Masters in Paediatric Physiotherapy in SRM University, India.As part of the course he completed a research project/ thesis on 'The Effects of Early Neonatal Massage and Therapeutic positioning in high risk infants on neurobehavioural and neurodevelopmental outcome''.He also attended many specialized courses which includes paediatric respiratory physiotherapy, Sensory Integration etc..
Ragu has been living in Ireland since 2007, working as a Senior Physiotherapist in Enable Ireland Early Intervention team treating children with Neurological and Musculoskeletal disorders. He has great ability to assess posture, biomechanical misalignment, movement patterns etc and practices evidence based therapy through intense hands on approach with appropriate follow up in bringing functional outcome and meeting needs. He offers support to parents in transferring therapy skills through home programme and strongly believes success through family participation and has developed a particular special interest towards people who has Cerebral Palsy and Stroke.
Ragu is a member of :
Irish Society of Charted Physiotherapists (ISCP); Health Profession council (HPC), Neurodevelopmental Therapy Association of America(NDTA), Sensory Integration Network UK and Ireland. He is also a member of the Certificate Infant Massage Instructor group and special interest group with Irish Association of Paediatric Physiotherapists (CPP).
Running time: 115 minutes
---
Holly and Steven (The Elves and the Shoemaker)

Holly and Steven recorded a podcast on Saturday evening, October 3rd 2020. Holly had read the Elves and the shoemaker and wanted to talk about the book, she then decided she wanted to read this old classic from 1965 as part of the podcast.

Running time: 23 minutes
---
Holly and Steven (Talking about stuff November 21st 2020)

Holly and Steven recorded a podcast on Saturday afternoon, November 21st 2020. They talked about school, healthy eating, people who tell lies to chiildren to get them to buy stuff.

Running time: 31 minutes
---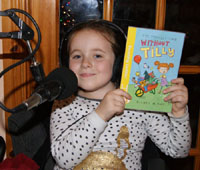 Holly talks about "Terrible time without Tilly" - Book Review

Holly and Steven had a quick chat on Monday evening, November 25th 2019 about the book that Holly just finished reading and thoroughly enjoyed. The book was called "The Terrible Time Without Tilly" written by Hilary McKay. Hear Holly's thoughts on the book and why she enjoyed it so much.
Running time: 19 minutes
---