SONY TC-WE635 Dual Cassette Deck (1999)

As the world moves ever forward and new technological breakthroughs enable us to experience our music and video on ever smaller and better devices, I want to pause and take a look back at some old equipment that I have here, mostly lying in cupboards, wardrobes, in the attic and even under the bed. The items on display are from my own collection however I am on the lookout for our listeners to send in their own images too for display here.

The Sony TC-WE635 is an auto-reverse stereo double cassette deck with Dolby B/C and HX-Pro noise reduction, it was introduced by Sony in 1999.
The main features of the Sony TC-WE635 are 2 heads, an electronic tape counter with 4 digits, automatic tape type selection with support for normal, chrome, and metal tapes.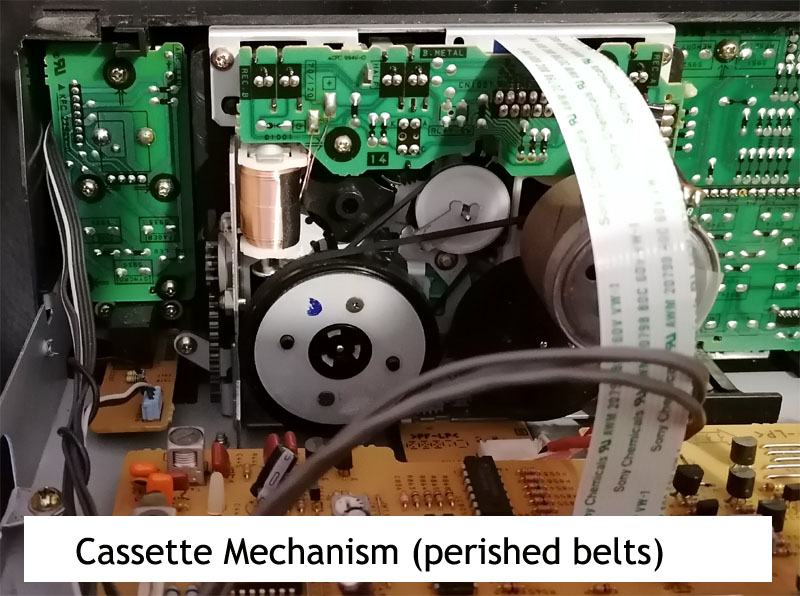 Typical front-loading double cassette deck with the cassette compartment located on both sides of the deck. Tape eject is operated mechanically and the cassette needs to be placed with the side to be played facing forward in the cassette well.
Level meters used on the TC-WE635 are generic digital peak reading meters. Full-logic transport controls used on the TC-WE635 let it respond to the slightest finger contact for fast and effortless transport function selection. Playback speed may be adjusted with pitch control.
To ensure the best response from the wide variety of tapes available adjustment of, bias and sensitivity, to optimum levels can be performed prior to recording.
Dolby C-type used in the TC-WE635 provides 20 dB of noise reduction above about 1,000 Hz, fully doubling the amount given by the B-type. The Dolby HX PRO system provides precise bias control during recording to reduce distortion and improve linearity in the high-frequency range, the result is recorded sound that is highly faithful to the original. To further maintain recording accuracy, the TC-WE635 incorporates a switchable multiplex filter. When you record FM stereo broadcasts, the MPX filter of the TC-WE635 can be switched on to prevent the standard 19kHz FM pilot signal from interfering with the noise reduction system.
For undisturbed listening a jack connector for a pair of stereo headphones is supplied. Connection to other audio components for playback can be achieved by an RCA cable and recording from a source by an RCA cable. All main transport commands can be issued remotely with a wireless remote control.
---
I have owned this unit from new, it has been well looked after and upon opening the cover, contained no dust at all. the drive belts have perished and lost all elasticity but have not transformed into black goo so I have ordered a set of replacement belts to swap out. This is an easy job and can be completed in under an hour.
Specifications
Type: auto reverse, double compact cassette deck
Track System: 4-track, 2-channel stereo
Tape Speed: 4.8 cm/s
Heads: 2 x record/playback, 2 x erase
Tape Type: type I, CrO2, Metal
Noise Reduction: B, C
Headroom Extension: HX Pro
Frequency Response: 30Hz to 19kHz (Metal tape)
Signal to Noise Ratio: 73dB (dolby C)
Wow and Flutter: 0.1%
Total Harmonic Distortion: 1.8%
Input: 160mV (line)
Output: 0.5V (line)
Dimensions: 430 x 120 x 290mm
Weight: 4.3kg
Accessories: optional remote control
Year: 1999